Here you will know how to accept payments from customers through Your website. In this article, we will know how to accept payments from our customers through our WordPress website. You are on the right page for learning above all payment methods that we can use to accept payments from customers through the website. Leave a comment if you will ask the questions above all, how to accept payments from customers through your WordPress Website. We will be happy to assist you in accepting payments from customers through your WordPress website.
Being able to accept credit card payments for services or products is critical to opening up new business opportunities on your WordPress website. But deciding which payment gateways to offer and whether they fit the structure of your eCommerce store can be difficult.
To make things easier, we've put research in one place for you. Finally, for online users, the checkout process can be a key factor in changing leads.
Understanding what each payment gateway offers can help you create the best possible customer experience.
In this article, we will cover the basics of online payment platforms. We will also review several free and premium payment applications that you can add to your WordPress website. If you're ready, let's dive in!
How to Accept Payments on a WordPress Website?
Sell anything, anywhere, anytime on WooCommerce, the world's biggest e-commerce platform to accept payment.
Why it's important to choose the right payment gateways for your WordPress website?
Payment gateways are services that facilitate the processing of credit and debit card payments for merchants. The gateway you choose is very important, especially when you consider that 75% of retail customers leave their carts during the checkout process. Offering your customers multiple payment options is a great way to keep them happy.
A payment gateway can be just a software application or include physical hardware used in a point of sale (POS) transaction. However, there are several important factors to consider when choosing a gateway for your business, including:
Payment Card Industry Data Security Standard (PCI DSS). PCI DSS compliance means that the service provider adheres to the information security standards for anyone handling large credit cards.
Secure Socket Layer (SSL) certificates. It is also recommended that websites with online payment options purchase SSL certificates. This means that the data will be exchanged over a secure connection.
Plugin compatibility. You'll want to make sure that the gateway you choose has a plugin that will deliver what you need and is compatible with the theme of your site.
User experience. Please make sure the gateway you choose can be tested during and after the checkout to ensure its ability to provide the most effective user experience.
If this is a hard choice to make, it is not uncommon to have over one. In fact, consumers are more likely to complete a purchase when they have multiple payment options.
The 5 Best Payment Gateways for WordPress
Now that you understand what elements to keep in mind while shopping around for a payment gateway, we'll look at five of the best options for WordPress store owners.
1. Authorize.Net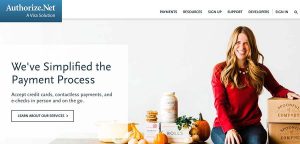 Authorize.Net offers advanced fraud detection services for free, among other services. You'll also have a QuickBooks sync option and the ability to accept multiple currencies.
In terms of POS services, you can easily turn any Windows-based computer into a POS terminal using allow-free software. You'll need to purchase a card reader to complete the system, however.
Authorize.net fees:
Account set-up fee: $49.00
Monthly gateway fee: $25.00
Per transaction processing fee: $0.10
With a simple checkout experience and no contracts, Authorize.net is an excellent gateway option.
2. PayPal
PayPal is probably the most trusted name in payment gateways. That's a huge plus for new businesses.
Also, PayPal is consistent and transparent in its fee schedule and offers an extensive suite of tools. You can also set up a POS checkout with several hardware options, which include mobile and traditional terminal possibilities.
PayPal fees:
All online sales: 2.9% + $0.30 per transaction
Non-keyed POS transactions: 2.7%
Keyed-in mobile and in-store transactions: 3.5% + $0.15
Virtual terminal: 3.1% + $0.30 per transaction
PayPal has 286 million active user accounts globally. That's a pretty sizeable group of potential customers who are more likely to complete their checkouts if PayPal is an option.
Related: How to Pick the Right WordPress Theme for Your Website
3. Stripe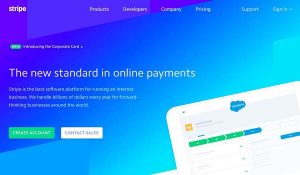 Stripe is a top choice if you plan on doing a lot of international business. It accepts over 100 foreign currencies and converts them automatically.
The company has also created its own POS Terminal system, as well. You'll have to purchase this, but it's an acceptable option if you plan on doing events or setting up a physical storefront.
Stripe fees:
Credit cards: 2.9% + $0.30 per transaction
A suite of tools: Stripe charges fees separately for each option
International conversion: 1% fee on top of normal Stripe transaction fees
Terminal transactions: 2.7% + $0.5 per transaction, plus the cost of hardware
Stripe is definitely a workhorse, with many options for developers.
4. Amazon Pay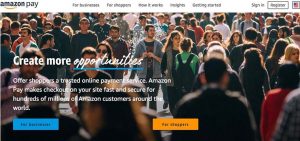 Aside from brand recognition, one of the most significant benefits of using Amazon Pay is that, unlike PayPal, shoppers don't have to leave your website to complete their payments. Users can log in with their Amazon accounts and complete "in-line" purchases in a familiar and smooth checkout process.
While Amazon Pay does not offer a POS system, you'll have access to other benefits. These include the ability to set up recurring payments, fraud detection, and donation settings.
Amazon domestic-only fees:
Web and mobile processing: 2.9% + $0.30 per transaction
Alexa voice-activated purchases: 4% processing fee + $0.30 per transaction
Charitable organizations: 2.2% processing fee + $0.30 per transaction
Amazon is an excellent choice for a small business looking to grow its reach and audience. The power of Amazon offers a lot of potential for just about any new business.
5. Square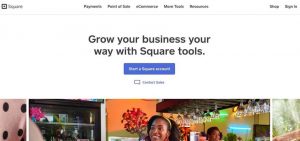 Square is a leader in the payment gateway industry. There are so many features and tools you'll get for free, such as the virtual terminal. This application enables you to turn any web-connected device into a credit card payment terminal, even without a card swiper.
Square also offers a sophisticated POS system, which incorporates iPad hardware into a stylish and easy-to-use digital terminal.
Square fees:
Keyed-in and card on file: 3.5% + $0.15 per transaction
E-commerce and invoices: 2.9% + $0.30 per transaction
Point of sale: 2.6% + $0.10 per transaction
Like some of the other gateway options, Square is definitely a top choice for startups and businesses with small monthly transaction numbers.
6 Free and Premium Payment Gateway Plugins
As you evaluate which gateway might be the best option for your business, you'll also want to make sure it can integrate with your WordPress website. So let's look at a few plugins that may help you simplify that process.
1. PayPal Payments Pro

The PayPal Payments Pro plugin solves one downside of using PayPal. Your customers will no longer be taken away from your website when they choose to use a credit card.
Key Features:
Easy to configure
Offers on-site checkout
Price: This is a free plugin.
2. WP Full Stripe
WP Full Stripe is powered (naturally) by Stripe. This plugin makes it easy for you to add payment options to your website. This includes embedding payment forms into your site and setting up subscription options or recurring payments.
Key Features:
Accepts donations online
Lets you set up recurring payments for users
Saves payment information for repeat customers
Price: $39. At the time of publication, the free version hadn't been tested with recent versions of WordPress, so it's not a recommended solution.
3. WP Simple Pay
If you choose Stripe as your payment gateway, WP Simple Pay is another option for integrating payments into your WordPress site. This plugin is an "all-in-one" option, which eliminates the need for additional plugins to create a payment experience.
Key Features:
Displays product images on checkout pages
Support over 135 currencies
Is mobile responsive
Price: The "lite" version is free, while the "pro" version is $99–$499.
4. Authorize.net Payment Gateway for WooCommerce.
Explicitly designed for WooCommerce users, Authorize.net Payment Gateway for WooCommerce offers unique security features for your website. You'll be able to take credit and debit card payments right on your store through Authorize.net.
Key Features:
Does not require SSL
Secures payments through Authorize.net servers
Includes optional success and failure messages
Price: This is another free option.
5. WooCommerce
WooCommerce is a perfect partner for your WordPress e-commerce website. Packed with features and options, WooCommerce also has over 300 add-ons available that extend its functionality. This includes extensions that connect it up with a wide variety of payment gateways.
Key Features:
Is an open-source option
Includes customizable product, cart, and checkout pages
Integrates with over 140 payment gateways
Price: Free for the base plugin with payment gateway add-ons ranging from $0–$79.
Related: WooCommerce vs. Shopify: An In-Depth Guide
6. Amazon Pay WooCommerce Payment Gateway
Finally, the Amazon Pay WooCommerce Payment Gateway plugin is designed to specifically integrate Amazon Pay into a WooCommerce online store. The recognition and trust consumers have with Amazon can be a massive benefit to your website.
Key Features:
Lets you use customer-stored Amazon account information to make payments
Enables management of refunds from your WordPress admin dashboard
Handles single, recurring, and subscription payments
Price: You won't pay a cent to use this particular plugin.
How to Avoid Mistakes When Adding Payment Options to Your Website
There are a few things you'll want to avoid while setting up your payment gateways in WordPress. For example, you'll want to avoid choosing options that lack easy WordPress integration.
You'll also want to choose a web host that's equipped to handle payments online. When shopping for a hosting provider, check to see if each one offers SSL/TLS certificates with its packages or if you'll have to purchase one separately. Regardless, you'll need to clearly inform site users about what kind of security you offer for payment transactions.
It's also necessary to understand that you don't have to incorporate complete shopping cart functionality into your website. You can add just one or two simple payment options if that's the approach that will work best with your customers and your products or services.
Does WordPress Accept Payments?
If you've got WordPress questions, we've got answers! Subscribe to our monthly digest so you never miss an article.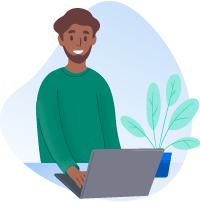 Accepting Payments Made Easy
Generating income through a website is not uncommon in today's digital marketplace. To get the most out of your WordPress store's earning potential, you'll want to choose the best payment gateway options.
Here at DreamHost, we want you to be able to focus on building your online business. That's why we offer managed WordPress hosting plans for a variety of needs. We'll take care of keeping your WordPress installation up-to-date and running smoothly!